OpenAI ChatGPT has been trending amongst netizens since its official release. It is an AI chatbot that uses the latest GPT 3.5 technology. If you might have noticed, in October 2022, its beta version was quite popular on Instagram reels. Especially for writing an email for a corporate leave.
The company has finally rolled out ChatGPT for users; however, it is still not perfect. You can consider that it is still in the testing phase, and even though it's not a beta version, it is not precisely the best for everything.
So, how did OpenAI ChatGPT beat Google? The GPT 3.5 (Generative Pre-Trained) is a language model that utilizes deep learning to generate human-like text. We all know there is no specific person at Google who shows you handpicked search results. It's machine learning that is consistently improving over time to provide you with the best results.
You can ask OpenAI ChatGPT questions, and it will generate a text-based answer. When I say text-based, it also includes code. Let's see how to use and understand it with a couple of examples to see what potential OpenAI ChatGPT holds to beat Google.
Get Started with OpenAI ChatGPT
Getting started is easy.
Head over to the

OpenAI ChatGPT

website.

Sign up using Google, Microsoft or use your own Email (e.g., Yahoo or Hotmail)

Enter your active phone number, and once you do that, you will get an OTP

Enter the OTP, and you're all set

A dashboard will open that will tell you about the platform, which you can read or ignore; the choice is up to you.
Let's see what conversation I had with OpenAI ChatGPT and if it is useful or not.
An Overview of OpenAI ChatGPT
Question 1: Can OpenAI ChatGPT create a website?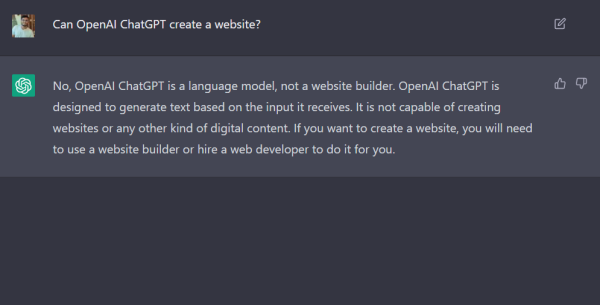 Well. Certainly not yet, as creating a website requires hosting. Anything that has dependability will not work; however, it can guide you in the proper steps. See question two answer.
Question 2: How to create a website from scratch?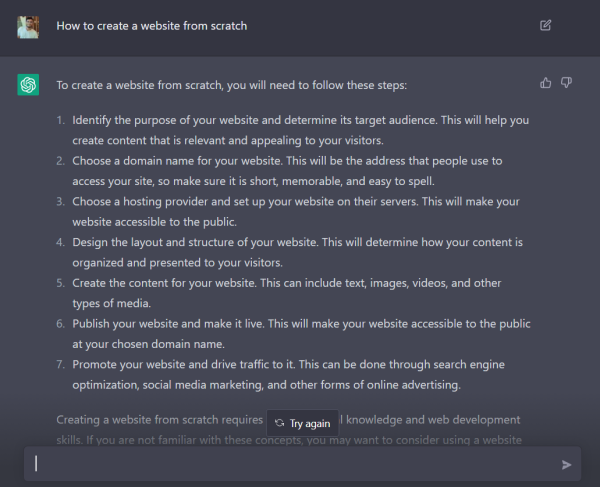 The instruction showed me were pretty basic. You can try yourself by adding words such as "layman term" to get the simplest explanation.
Question 3: I need an HTML code for the text "You Can Do It" - the alignment in the center with the font size 18, the color red, and the hover color would be green.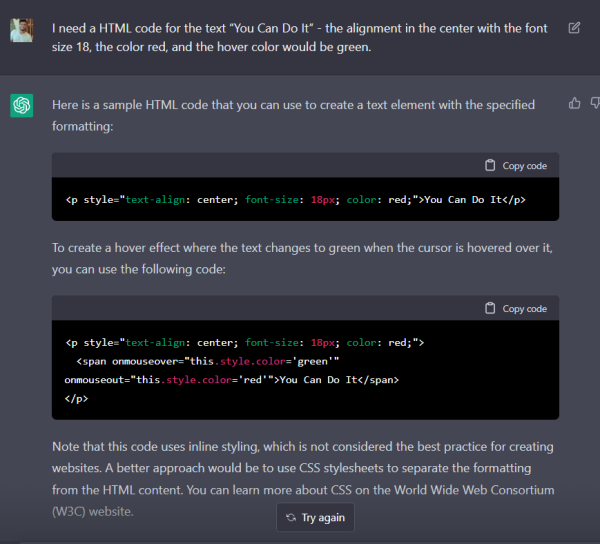 basic html coding question
It provided two codes: one with simple HTML and styling, which does not include hovering. The second code has the hover effect. But it uses inline CSS, which is bad for a website. I am from a digital marketing background. I can say the given answer is correct.
However, sometimes you have to use inline CSS, so your website theme does not look a trash paper.
I am not an expert in Java or JavaScript, nor do I have expertise in CSS. I have learned HTML over time and can understand CSS and some JavaScript. With that being said, let's ask one more question related to coding. I am looking for a coded email marketing template for Mailchimp and have asked OpenAI ChatGPT to create one for me.
Let's find out how it turned out.
Question 4: I need to create an email marketing template. These are the instruction. Create a two-column section. The 1st column will have a responsive image that will fit according to devices and in the second there will be text.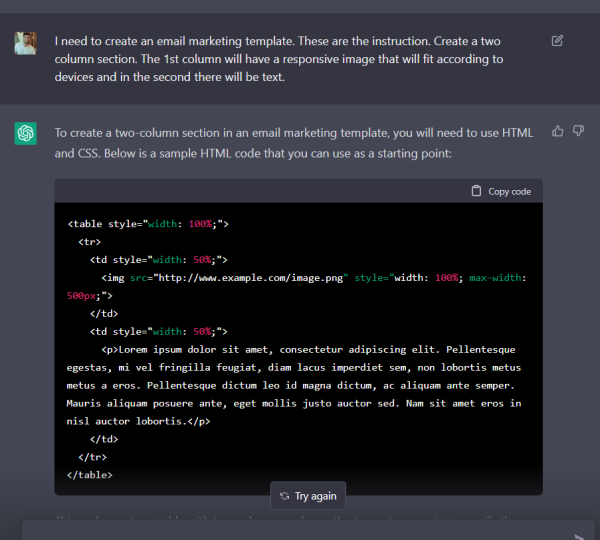 template creation question to OpenAI ChatGPT
The HTML code it generated was basic, but you can ask whatever you want. It is even capable of creating JavaScript functionality. In addition to coding, you can ask questions related to your studies, marketing, finance, and more. OpenAI ChatGPT can provide answers to any question that can be answered in the text.
Should Google be Worried?
Google has a huge market share when we speak of providing information. An understanding of the whole architecture behind this technology is required to have an answer with solid proof.
For this quick instance, there is still time that all people will adapt to OpenAI ChatGPT. On the other side of the mirror, the potential of OpenAI is immense and holds the capabilities to beat Google.
Google has a lot in it that people are used to, and people are now more interested in media content such as photos and images, which OpenAI does not have at the moment. Also, OpenAI is an AI-based technology, which means monetization is also an issue for the platform, as no user can post their own content.
Long story short, Google will have its power in the market for now until or unless OpenAI comes with spectacular innovation that includes media and monetization.
Till it replaces Google, try playing with it. Trust me. You will love it.
Also Read: How Technology Is Disrupting The Fitness Industry