Nowadays graphic design is expected to meet not only the criteria of relevance, modernity, and appropriate aesthetics, but also must be selling a product or service right from the moment a potential client has seen the visual.
Doing their best to satisfy demanding clients, graphic designers and visual creators need to be fast in shaping their ideas, preparing several variants of designs for clients to choose from and approve one of them. The speed of creating the design is becoming the determinative factor in the industry.
Dealing with almost unreal deadlines is there any solution for digital art specialists? Yes, there is a relief. Marketplaces of graphic design which are gaining popularity now in the sphere of visual content creation save time greatly! And one of the perfect examples of such a high-quality graphic elements aggregator is the MasterBundles project with a true designer soul.
Whom is it going to be useful for?
graphic designers of all levels of proficiency who need to save time on details and elements of texts and illustrations;

marketing managers;

SMM specialists and content creators;

crafters and entrepreneurs who use SVG files in their businesses;

any other people who need to create a professional graphic design product fastly.
And below we're going to talk in detail about the most popular categories of digital art accessible on MasterBundles which everybody can profit from.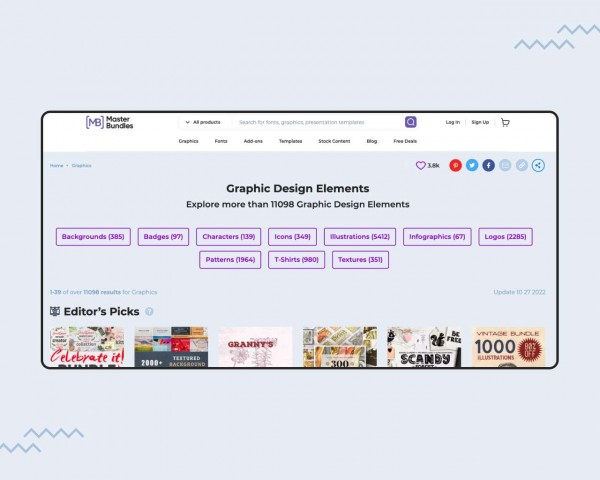 This category is the largest on the marketplace: it has more than 11000 unique ready-made customizable pieces of digital art. Here you'll find various backgrounds, badges, characters (avatars), icons, more than 5000 illustrations, infographics, 2000+ logos, almost 2000 different patterns, textures, and even almost 1000 thematic t-shirt designs.
All the trending elements are here. You'll find both modern pastel and bold backgrounds in the corresponding subcategory. Illustrations are divided into holiday, botanical, animalistic, food, and business themes.
Logos are presented in all kinds of styles and themes: minimal, vintage, featuring animals and birds, in lettering, for gaming, travel, real estate, fashion industries, and much more. A great collection of patterns include abstract, art deco, geometric, holidays-themed, black and white, and watercolor style ones.
A t-shirt dedicated subcategory offers designs for producing animalistic, kids', sport, motorcycle, retro and typographic t-shirts.
Just only looking through these subcategories new business ideas may be born! And thousands of existing businesses can expand their opportunities and express themselves by taking advantage of the numerous designs on MasterBundles.
Need a Skywalker Star Wars font or a dungeon Minecraft geometric one? Any kind of font you can imagine is already available in MasterBundles professional font category. Divided into subcategories of serif, sans serif, script, display, and symbolic.
The feature is that fonts can be united into bundles (this is a specialty of all the categories in the MasterBundles marketplace) which is very profitable. You may purchase a bundle of 84 fonts for the price of 20 fonts. Or you can find here bundles at the price of 1$ per font. Every client of the marketplace will definitely satisfy professional needs on a certain budget. Or even for free! MasterBundles has a category of free deals.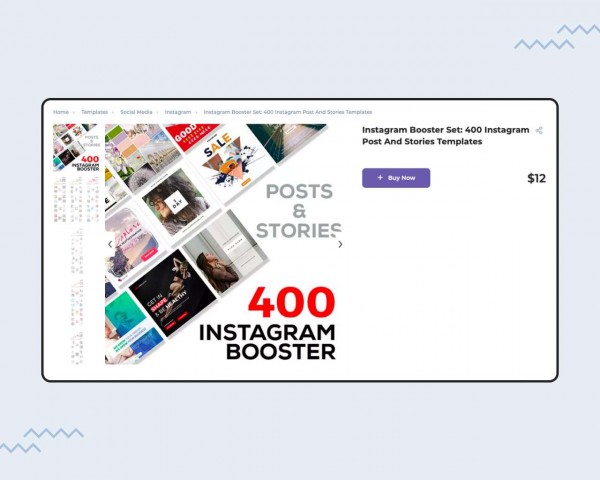 Before downloading the fonts pick your purpose of usage correctly because the price may vary depending on that. There are desktop versions of products, and e-pub and app versions.
For the desktop one, you are authorized to use the product for commercial or non-commercial purposes but only in a static, non-embedded way. Pick the e-pub version if you need the font in some electronic publications like e-books, e-cards, or e-magazines. Note that e-pub forbids usage for marketing purposes or streaming and broadcasting. Finally, the app license is usually the most expensive font version. It suggests using the product in desktop and mobile applications only, excluding advertising or streaming activities.
This category includes such popular searches as presentation templates (more than 2500 variants available), around 700 social media plans, landings, WordPress themes, UI kits, mockups, resume and certificate templates, email and magazine arrangements, and 500+ printable designs (brochures, flyers, planners, postcards, etc.
Bundles with design templates are simply like treasures! 400 Instagram posts and stories, 10 best-seller PowerPoint slides presentations, 50 WordPress themes, 30 creative brochures, wedding invitation bundle - all these offers are at very beneficial prices, paying for 2-3 templates you are getting dozens of variants!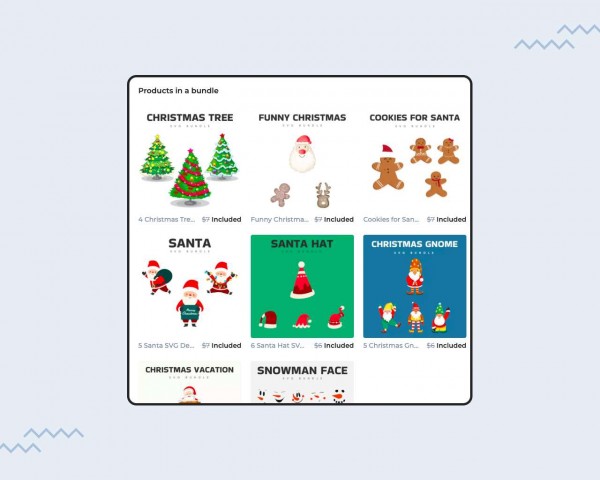 Downloading products from the design templates category you have three options of usage to choose from: personal, commercial, or extended-commercial. Purchasing for personal purposes is the cheapest option and suggests individual, non-commercial usage of the product. Commercial use offers 5000 combined physical and digital products while extended-commercial has a limit of 250000.
Regardless of the purpose of use you choose, all the products are fully editable files, ready to use, and optimized.
Original and high-quality photos and images with authorized use are not so easily found on the Internet. So necessary for every blog post and for every website, the stock content gallery on MasterBundles includes more than 3000 graphic vector images, photos, and images for footage and even audio files.
Containing PNG and SVG files each bundle is united by a similar theme. For example, "Wedding Ring Bundle" or "Christmas Files Bundle".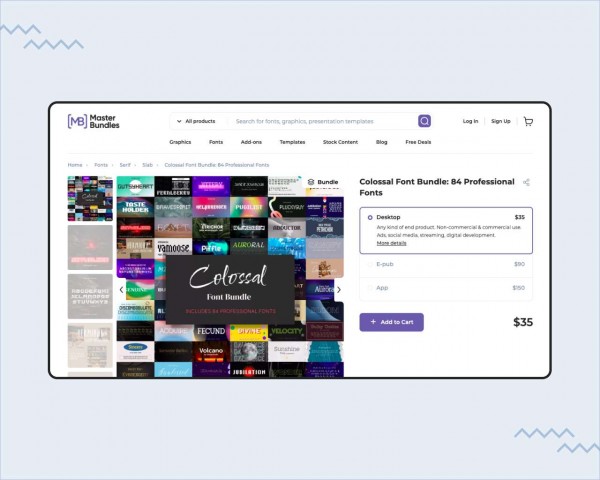 By purchasing a bundle you get the products simply 5 times cheaper and have more variants for your work.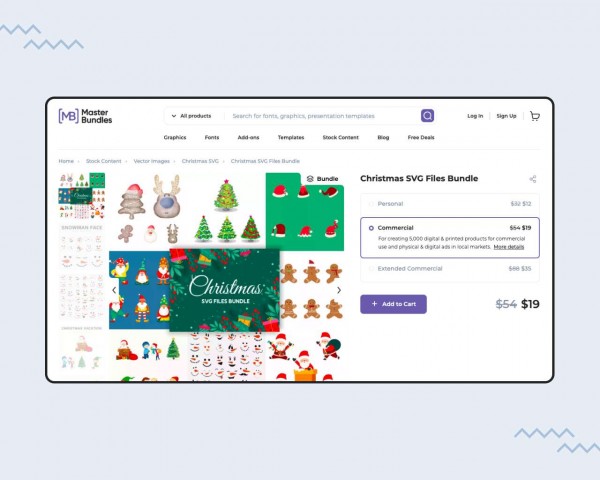 Haven't found the image you need the first time? Get inspired and try something new and extraordinary on the MasterBundles blog where the newest and most trending pieces of digital art are reviewed.
In Conclusion
Marketplaces are so popular now not without a reason. For the graphic design and visual content industry, such a platform as MasterBundles is a savior of precious time and financial resources. As a content creator, you don't need to execute common repetitive tasks over and over again, because this digital art marketplace offers you ready-made details, templates, and graphic elements in a huge variety.
Focus on the creative challenges and cut off the routine work with sets of affordable graphics from MasterBundles!